Everyday objects | University
Mark Bonnar's BBC Documentary 'Meet the hippos is a fun take on the format. The Scottish actor revisits the new towns of his childhood, incorporating story and satire to create a genuinely entertaining yet informative take on something that usually goes unnoticed: public art installations. I never seriously thought about the goal of public art however, beyond the commemorative or moralizing intentions behind the statues – eg. Tracing his father's involvement in the development of these new towns, Bonnar demonstrates how something so out of place in relation to his surroundings (namely, those concrete hippos) can become so entrenched in our lives – and just how deeply they can have a profound impact on the identity of the place.
"Public art is tactile, lending itself so well to the curiosity of all ages and generations"
While New Town Art is certainly a product of its time, with developers employing resident artists to cultivate the cultural identity and brands of these new towns, it raises, for me, questions about public art in general. Public art is tactile, lending itself so well to the curiosity of all ages and generations. It didn't take long for me to think about the local examples of public art – those everyday objects – that adorned my own neighborhood. The documentary reminded me of a friend's birthday in particular a year when, while waiting for a lift, we messed around in the plaza in Cardiff Bay, our home town. In the same vein as New Towns was a product of the 1970s, Cardiff Bay is a product of the early 2000s, highly developed and gentrified following its history as an export port. Along with the massive commercial and tourism developments, there has been the introduction of a variety of artistic monuments, including The Celtic Ring which you see in the header of this article.
Sculpted by Harvey Hood in 1993, the bronze sculpture is massive, inspired by Celtic origins in Wales, and engraved inside various landmarks that you can see looking past the sculpture in the direction shown . Its purpose is therefore not only to provide cultural commemoration, but it is also deliberately interactive, directive – a kind of artistic compass. However, as children, our first impulse was not to admire the artistic integrity of the work but to climb it. From what I remember, its concave shape and difficult dimensions made the ascent exceptionally difficult; part of the joy was the physical struggle to climb to the top, the other part to stay there. To stand up was a perilous risk. The engravings inside served as a stepping stone to getting to the top, not a reminder of other examples of public art in the bay.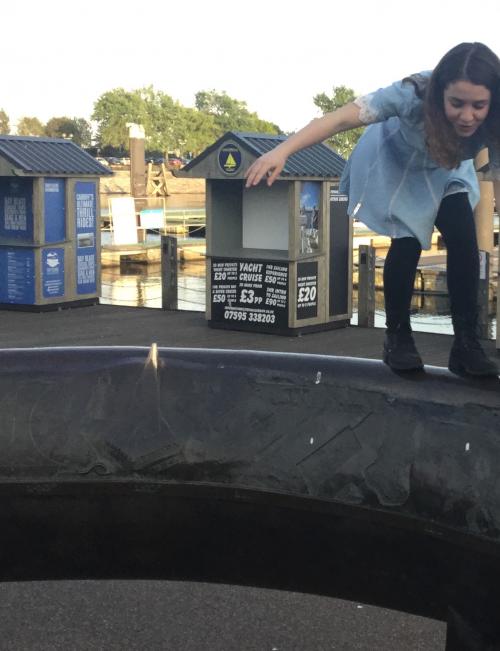 Thinking back to that day, four years later, I wonder: have we disrespected the artwork by climbing on it? Museums are always extremely strict in their rules regarding the treatment of fine art and sculpture. How to answer this question while thinking of public art which has not Do not touch sign, which has no fence around it, which can be altered by both the elements and the people who interact with it? How to preserve this kind of art? In Bonnar's documentary, hippos and elephants are revisited. As concrete sculptures, they have retained their overall structure and appearance over the decades, but parts have been shattered through repeated interactions – the trunks of the East Kilbride elephants, for example, having been torn off. Other iterations of public art have been suppressed by councils and other bodies of authority.
It's clear how much New Town art means to Bonnar's father, and the playfulness in which the couple reflects on their development and place in their own lives shows us how, although we may not notice it. be not initially, these public facilities stay with us forever. They exist, of course, in their physical form but, through memory, they transform into another art form: an internalized form of their purpose and intentions, and an individualized experience that reminds us of where we have been. . As long as the sculptures remain accessible and interactive, this love affair between public and public art can be sustained. Bonnar's documentary is part of that preservation, as is the act of going through those old photos and remembering the affection I had for the Celtic ring. There will always be more famous public art installations that we will collectively remember in importance, but sometimes it's these local, everyday artifacts that mean the most to us.
You can now watch Mark Bonnar's documentary 'Meet You at the Hippos' on BBC iPlayer: https://www.bbc.co.uk/iplayer/episode/m00124rq/meet-you-at-the-hippos
Read David Harding's ideas on 'public art in new UK towns' here: https://www.davidharding.net/?page_id=13
University is the independent journal of the University of Cambridge, established in its present form in 1947. In order to maintain our editorial independence, our print journal and news website do not receive any funding from the University of Cambridge or its colleges constitutive.
So we depend almost entirely on advertising for fundraising and expect to have a few tough months and years ahead.
Despite this situation, we will be looking for inventive ways to serve our readership with digital content and of course in print!
Therefore, we ask our readers, if they wish, to donate from just £ 1 to help us cover our running costs. Thank you very much, we hope you can help us!